Dr. Jake Pikor BSc. Kin (Hons), D.C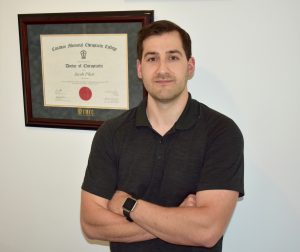 Dr. Jake Pikor uses an individualized approach to restore the body's mechanics in order to reduce pain and dysfunction. A combination of adjustments, mobilizations, soft tissue techniques, clinical acupuncture and rehabilitation exercises are used to help individuals of all ages achieve better health and performance.
Dr. Pikor graduated from Canadian Memorial Chiropractic college in Toronto after completing his Bachelor of Science Honours degree in Kinesiology from Brock University in St. Catharines. He has a special interest in sports injuries and post-concussion treatment, steaming from his life long involvement in athletics.
Dr. Pikor is licensed with the Canadian and Ontario Chiropractic Associations, Contemporary Medical Acupuncture Association and the Workplace Safety Insurance Board (WSIB)
Doctor of Chiropractic
Contemporary Medical Acupuncture
Certifications in Active Release (ART), Functional Release (FR), Selective Functional Movement Assessment (SFMA), Athletic Movement Assessment (AMA), Integrative Patterning (ISS) and Complete Concussion Management (CCM)
Special interest in golf and hockey